Delta One New Routes plus Delta One Complimentary Upgrades!!!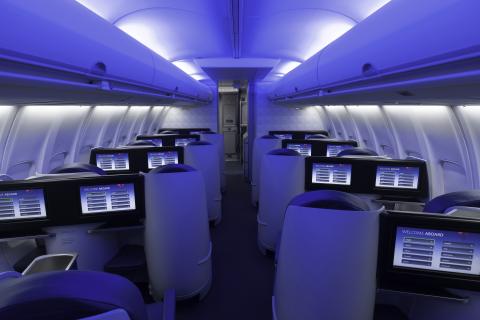 Two huge news items came out of Delta today. First, the availability of Delta One cabins on additional domestic routes. Second, a huge perk, is allowing Medallion members to upgrade to Delta One.
New routes featuring the Delta One product are not a surprise, since JetBlue's Mint (their first class cabin) is the best product on the transcon routes and are expanding into other markets.
However, the ability for Medallion members to upgrade into Delta One is huge news, and a really positive addition to the SkyMiles program, which is usually in the news for devaluations. Previously, these were not available for a complimentary upgrade; you had to buy the ticket, or Platinum and Diamond members could use an upgrade certificate to get in (assuming you opted for the Platinum and Diamond "gifts").
The new complimentary upgrades will not clear on the 5/3/1 day windows like regular domestic first class complimentary upgrades, but will clear the day of. This makes sense since Delta wants to sell as many seats as possible (obviously) but if there are Delta One seats open the day of the flight, now Medallion members have a shot at the upgrade.
Delta already offers the Delta One experience on all flights on the following routes:
New York-JFK and Los Angeles & San Francisco
Boston and San Francisco
Washington-Reagan and Los Angeles
Delta is launching its Delta One experience on key long-haul domestic routes, starting Spring 2018, with select flights (not all flights) between the following markets:
Boston and Los Angeles
New York-JFK and San Diego & Seattle
New York-JFK and Las Vegas
Atlanta and Honolulu
Minneapolis and Honolulu
"Our domestic expansion of Delta One is all about responding to customers who have told us they want more opportunities to buy in to the premium experience that Delta One has quickly become known for," said Delta President Glen Hauenstein. "And while more customers are locking in their preferred experience by purchasing First Class or Delta One, we know how important Complimentary Upgrades are to our Medallion Members. Offering our best product to our most loyal customers as an upgrade further distances SkyMiles from the competition."
The Delta One cabin offers a luxurious experience with privacy, comfort and exceptional service featured at every step, including:
180-degree flat-bed seats, featuring Westin Heavenly In-Flight bedding
In-seat power and USB outlets, seat-back entertainment screens with free entertainment, noise-canceling LSTN headsets and a TUMI amenity kit with Kiehl's Since 1851 products
Sky Priority check-in, security, and baggage handling and Premium Boarding
In Los Angeles, Delta One customers continue to have access to the exclusive Delta ONE at LAX check-in
Complimentary Delta Sky Club access on day of flight
A refined dining experience including chef-curated menus served on Alessi serviceware and seasonally rotating wines selected by Master Sommelier Andrea Robinson
From the Delta website :
These are the latest improvements as part of the airline's multi-billion dollar investment in the customer experience that includes a cabin modernization program featuring new seats, seatback entertainment systems with free entertainment, high-capacity overhead bins, free mobile messaging, access to Wi-Fi on nearly all flights, free Main Cabin meals on select flights, upgraded Main Cabin snacks, an Alessi-designed collection of serviceware, Westin Heavenly® In-Flight Bedding, chef-curated meals paired with wines hand-selected by Master Sommelier Andrea Robinson, noise-canceling LSTN headphones and more. Delta has also invested in a number of innovative solutions to ease the travel experience including real-time RFID bag tracking and auto check-in via the Fly Delta app, faster ways through security lines via efficient automated screening lanes and a partnership with CLEAR, and a redesigned E-Gate experience at its Atlanta hub.